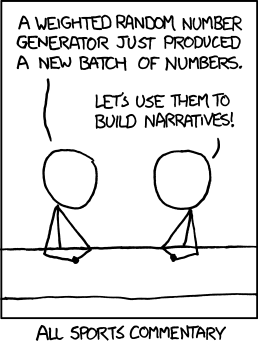 With the Giants vs. Royals series starting today, baseball prognosticators are everywhere. Most simulation games have "pre-played" the series, to varying results. Below are links to the results of a few different simulations, across different game engines.
Have you pre-played this World Series with your favorite game? Leave your results in the comments!
—————————
Good news, @Royals fans. Strat-O-Matic has your team winning the World Series in six games. http://t.co/9ChBlofEur

— Strat-O-Matic Games (@StratOMatic) October 21, 2014
GAME 6
San Francisco 3 7 0
Kansas City 7 9 0
HR: G. Blanco, B. Posey
Kansas City scores five runs in the bottom of the fifth inning, highlighted by a two-run single off the bat of Eric Hosmer. Yordano Ventura allows just two earned runs in six innings for his second win of the series. Buster Posey strikes out against Greg Holland for the final out, as Kansas City celebrates its first World Series title since 1985 in front of its home fans.
KANSAS CITY WINS IN SIX GAMES
—————————
Our #WorldSeries pick: We simmed it 5 times & wrote about what will be a classic: http://t.co/btpaDBHaXb #mlb #baseball #giants #royals

— OOTP Baseball (@ootpbaseball) October 20, 2014
We thought we'd try something different with our World Series sim. This time we simmed the series five times and put together a composite that gives us a pretty good look at what will likely happen. The big takeaway? This is, unsurprisingly, a very evenly matched series: four of the sims went seven games and the fifth ended in six.
—————————
HISTORY MAKER BASEBALL
At press time, this pre-play is only through the first three games of the series, but the Royals have a 3-0 lead.
The Royals keep their mojo going, winning Game 3 2-1 in 11 innings. They have not lost in the post season.
—————————
#MLB prediction engine likes #SFGiants over #Royals. 7-game series most common outcome: http://t.co/cXKtzfqylg @mccoveychron @royalsreview

— WhatIfSports.com (@WhatIfSports) October 21, 2014

—————————
DYNASTY LEAGUE BASEBALL
USA Today is simulating the series with Dynasty League Baseball, but the newspaper has released the results of game one only so far.
BOX SCORE: Royals 9, Giants 6

The American League champions won their ninth consecutive postseason game as Shields allowed one run in 7 2/3 innings before running out of gas in the eighth. Kansas City built a 9-1 lead thanks to a string of hits with runners in scoring position over the first seven innings. Left fielder Alex Gordon drove in four runs and catcher Salvador Perez plated three to help the Royals jump out to a 9-1 lead, only to have the Giants come back in the late innings.

Have you pre-played this World Series with your favorite game? Leave your results in the comments!